Realization of a novel free-piston engine generator for hybrid electric-vehicle applications
Smallbone, Andrew; Hanipah, Mohd Razali; Jia, Boru; Scott, Tim; Heslop, Jonathan; Towell, Ben; Lawrence, Chris; Roy, Sumit; Vijayalakshmi, Shivaprasad K.; Roskilly, Antony Paul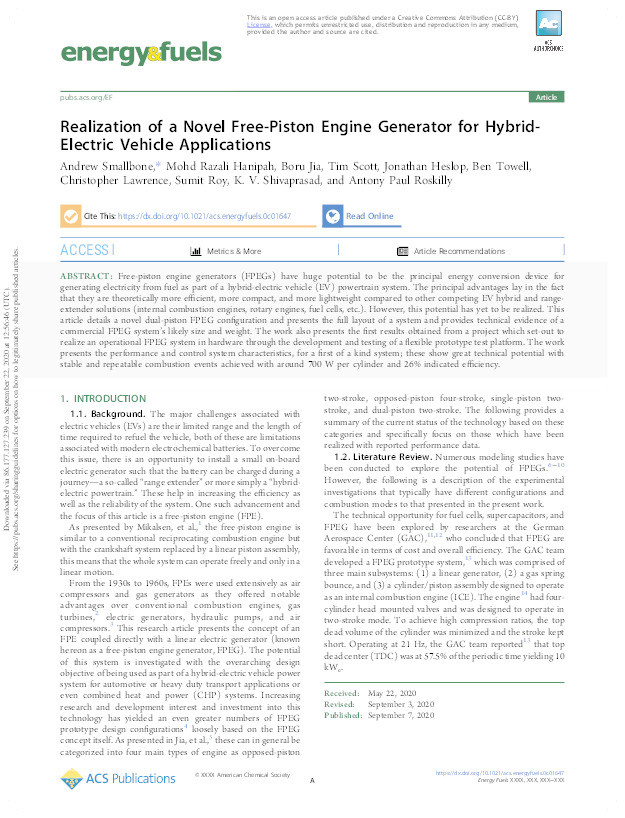 Authors
Shivaprasad K. Vijayalakshmi
Abstract
Free-piston engine generators (FPEGs) have huge potential to be the principle energy conversion device for generating electricity from fuel as part of a hybrid electric vehicle (EV) powertrain system. The principal advantages lays in the fact that they are theoretically more efficient, more compact and more lightweight compared to other competing EV hybrid and range extender solutions (internal combustion engines, rotary engines, fuel cells etc.). However, this potential has yet to be realised. This article details a novel dual-piston FPEG configuration and presents the full layout of a system and provides technical evidence of a commercial FPEG system's likely size and weight. The work also presents the first results obtained from a project which set-out to realise a operational FPEG system in hardware through the development and testing of a flexible prototype test platform. The work presents the performance and control system characteristics, for a first of a kind system, these show great technical potential with stable and repeatable combustion events achieved with around 700W per cylinder and 26% indicated efficiency.
Citation
Smallbone, A., Hanipah, M. R., Jia, B., Scott, T., Heslop, J., Towell, B., …Roskilly, A. P. (2020). Realization of a novel free-piston engine generator for hybrid electric-vehicle applications. Energy and Fuels, 34(10), 12926-12939. https://doi.org/10.1021/acs.energyfuels.0c01647
| | |
| --- | --- |
| Journal Article Type | Article |
| Online Publication Date | Sep 7, 2020 |
| Publication Date | Oct 15, 2020 |
| Deposit Date | Sep 11, 2020 |
| Publicly Available Date | Sep 22, 2020 |
| Journal | Energy and Fuels |
| Print ISSN | 0887-0624 |
| Electronic ISSN | 1520-5029 |
| Publisher | American Chemical Society |
| Peer Reviewed | Peer Reviewed |
| Volume | 34 |
| Issue | 10 |
| Pages | 12926-12939 |
| DOI | https://doi.org/10.1021/acs.energyfuels.0c01647 |
Files
Published Journal Article (Advance online version) (5 Mb)
PDF
Publisher Licence URL
http://creativecommons.org/licenses/by/4.0/
Copyright Statement
Advance online version This is an open access article published under a Creative Commons Attribution (CC-BY) License, which permits unrestricted use, distribution and reproduction in any medium, provided the author and source are cited.
You might also like
Downloadable Citations