Disadvantage, Disagreement, and Disability: Re-evaluating the Continuity Test
Begon, Jessica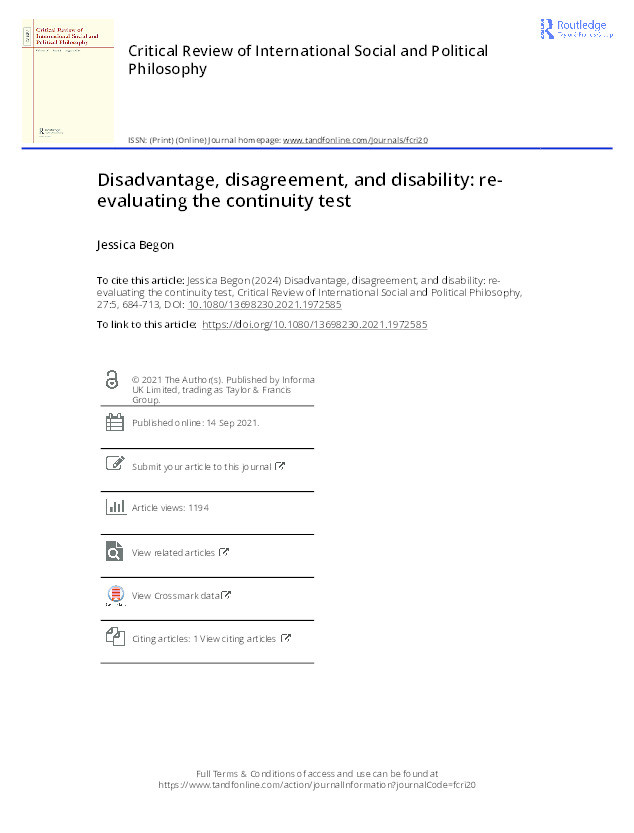 Authors
Abstract
The suggestion that individuals should be considered disadvantaged, and consequently entitled to compensation, only if they consider themselves disadvantaged (Dworkin's 'continuity test') is initially appealing. However, it also faces problems. First, if individuals are routinely mistaken, then we routinely fail to assist the deserving. Second, if individuals assess their circumstances differently then the state will provide different levels of assistance to people in identical situations. Thus, should we instead ignore individuals' convictions and provide assistance that some, at least, do not feel they need? One set of cases where this dilemma is salient are those in which disabled individuals disagree over whether they are disadvantaged. Focussing on these, I argue that despite objections, individuals should have a voice in determining whether they are disadvantaged. However, I contend that our goal should not be ensuring continuity with individuals' ethical convictions (concerning the pursuits they deem worthwhile or valuable), but their convictions regarding whether they are relevantly disadvantaged (whether they have what they are entitled to).
Files
Published Journal Article (757 Kb)
PDF
Publisher Licence URL
http://creativecommons.org/licenses/by-nc-nd/4.0/
Copyright Statement
© 2021 The Author(s). Published by Informa UK Limited, trading as Taylor & Francis Group.<br /> This is an Open Access article distributed under the terms of the Creative Commons Attribution-NonCommercial-NoDerivatives License (http://creativecommons.org/licenses/by-nc-nd/4.0/), which permits non-commercial re-use, distribution, and reproduction in any medium, provided the original work is properly cited, and is not altered, transformed, or built upon in any way.
You might also like
Downloadable Citations