Nonstandard top substructure
Englert, Christoph; Gonçalves, Dorival; Spannowsky, Michael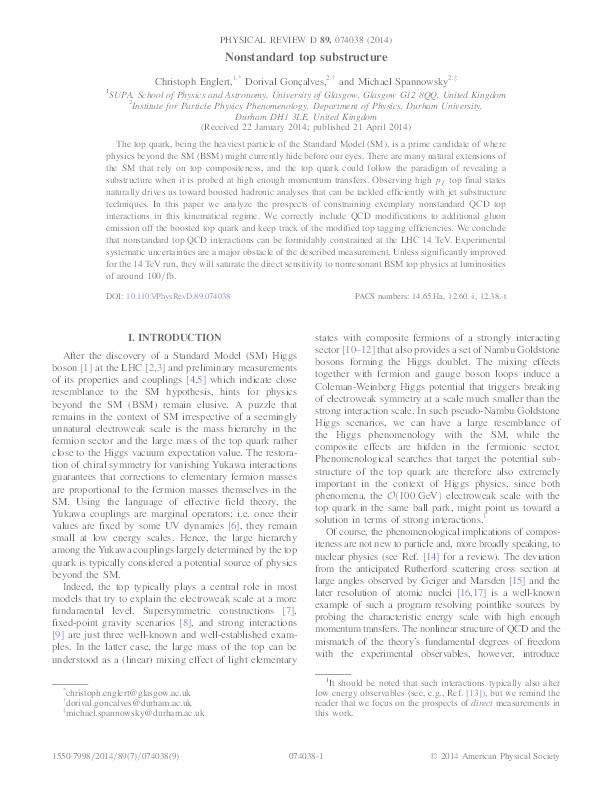 Authors
Abstract
The top quark, being the heaviest particle of the Standard Model (SM), is a prime candidate of where physics beyond the SM (BSM) might currently hide before our eyes. There are many natural extensions of the SM that rely on top compositeness, and the top quark could follow the paradigm of revealing a substructure when it is probed at high enough momentum transfers. Observing high pT top final states naturally drives us toward boosted hadronic analyses that can be tackled efficiently with jet substructure techniques. In this paper we analyze the prospects of constraining exemplary nonstandard QCD top interactions in this kinematical regime. We correctly include QCD modifications to additional gluon emission off the boosted top quark and keep track of the modified top tagging efficiencies. We conclude that nonstandard top QCD interactions can be formidably constrained at the LHC 14 TeV. Experimental systematic uncertainties are a major obstacle of the described measurement. Unless significantly improved for the 14 TeV run, they will saturate the direct sensitivity to nonresonant BSM top physics at luminosities of around 100/fb.
| | |
| --- | --- |
| Journal Article Type | Article |
| Publication Date | Apr 21, 2014 |
| Deposit Date | Dec 12, 2014 |
| Publicly Available Date | Apr 27, 2015 |
| Journal | Physical Review D |
| Print ISSN | 1550-7998 |
| Electronic ISSN | 1550-2368 |
| Publisher | American Physical Society |
| Peer Reviewed | Peer Reviewed |
| Volume | 89 |
| Issue | 7 |
| Article Number | 074038 |
| DOI | https://doi.org/10.1103/physrevd.89.074038 |
Files
Published Journal Article (500 Kb)
PDF
Copyright Statement
Reprinted with permission from the American Physical Society: Physical Review D 89, 074038 © 2014 by the American Physical Society. Readers may view, browse, and/or download material for temporary copying purposes only, provided these uses are for noncommercial personal purposes. Except as provided by law, this material may not be further reproduced, distributed, transmitted, modified, adapted, performed, displayed, published, or sold in whole or part, without prior written permission from the American Physical Society.
You might also like
Downloadable Citations