Comparative physiological and root proteome analyses of two sorghum varieties responding to water limitation
Goche, Tatenda; Shargie, Nemera G.; Cummins, Ian; Brown, Adrian P.; Chivasa, Stephen; Ngara, Rudo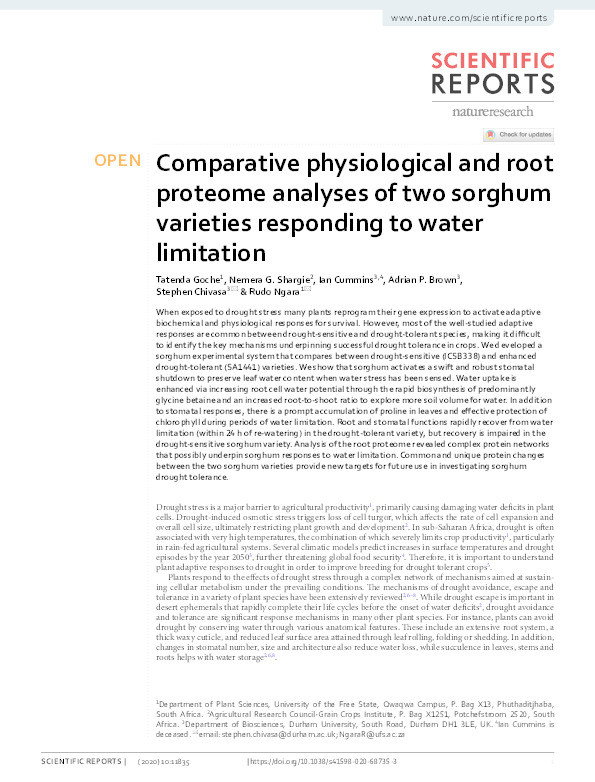 Authors
Abstract
When exposed to drought stress many plants reprogram their gene expression to activate adaptive biochemical and physiological responses for survival. However, most of the well-studied adaptive responses are common between drought-sensitive and drought-tolerant species, making it difficult to identify the key mechanisms underpinning successful drought tolerance in crops. We developed a sorghum experimental system that compares between drought-sensitive (ICSB338) and enhanced drought-tolerant (SA1441) varieties. We show that sorghum activates a swift and robust stomatal shutdown to preserve leaf water content when water stress has been sensed. Water uptake is enhanced via increasing root cell water potential through the rapid biosynthesis of predominantly glycine betaine and an increased root-to-shoot ratio to explore more soil volume for water. In addition to stomatal responses, there is a prompt accumulation of proline in leaves and effective protection of chlorophyll during periods of water limitation. Root and stomatal functions rapidly recover from water limitation (within 24 h of re-watering) in the drought-tolerant variety, but recovery is impaired in the drought-sensitive sorghum variety. Analysis of the root proteome revealed complex protein networks that possibly underpin sorghum responses to water limitation. Common and unique protein changes between the two sorghum varieties provide new targets for future use in investigating sorghum drought tolerance.
Citation
Goche, T., Shargie, N. G., Cummins, I., Brown, A. P., Chivasa, S., & Ngara, R. (2020). Comparative physiological and root proteome analyses of two sorghum varieties responding to water limitation. Scientific Reports, 10(1), Article 11835. https://doi.org/10.1038/s41598-020-68735-3
| | |
| --- | --- |
| Journal Article Type | Article |
| Acceptance Date | Jun 9, 2020 |
| Online Publication Date | Jul 16, 2020 |
| Publication Date | 2020 |
| Deposit Date | Jul 24, 2020 |
| Publicly Available Date | Jul 24, 2020 |
| Journal | Scientific Reports |
| Publisher | Nature Research |
| Peer Reviewed | Peer Reviewed |
| Volume | 10 |
| Issue | 1 |
| Article Number | 11835 |
| DOI | https://doi.org/10.1038/s41598-020-68735-3 |
Files
Published Journal Article (1.9 Mb)
PDF
Publisher Licence URL
http://creativecommons.org/licenses/by/4.0/
Copyright Statement
This article is licensed under a Creative Commons Attribution 4.0 International License, which permits use, sharing, adaptation, distribution and reproduction in any medium or format, as long as you give appropriate credit to the original author(s) and the source, provide a link to the Creative Commons license, and indicate if changes were made. The images or other third party material in this article are included in the article's Creative Commons license, unless indicated otherwise in a credit line to the material. If material is not included in the article's Creative Commons license and your intended use is not permitted by statutory regulation or exceeds the permitted use, you will need to obtain permission directly from the copyright holder. To view a copy of this license, visit http://creativecommons.org/licenses/by/4.0/.
You might also like
Downloadable Citations