Prospects for producing ultracold NH(3) molecules by sympathetic cooling : a survey of interaction potentials
Zuchowski, Piotr S.; Hutson, Jeremy M.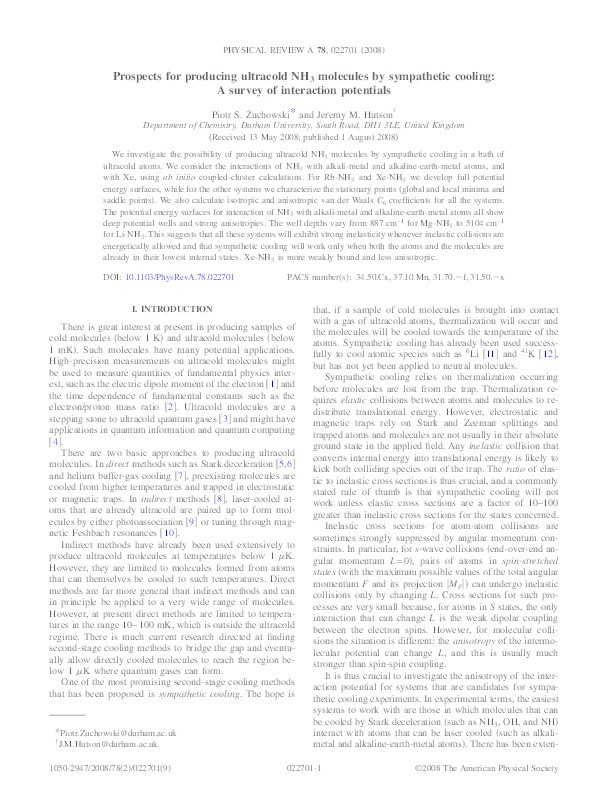 Authors
Abstract
We investigate the possibility of producing ultracold NH3 molecules by sympathetic cooling in a bath of ultracold atoms. We consider the interactions of NH3 with alkali-metal and alkaline-earth-metal atoms, and with Xe, using ab initio coupled-cluster calculations. For Rb-NH3 and Xe-NH3 we develop full potential energy surfaces, while for the other systems we characterize the stationary points (global and local minima and saddle points). We also calculate isotropic and anisotropic van der Waals C6 coefficients for all the systems. The potential energy surfaces for interaction of NH3 with alkali-metal and alkaline-earth-metal atoms all show deep potential wells and strong anisotropies. The well depths vary from 887 cm−1 for Mg-NH3 to 5104 cm−1 for Li-NH3. This suggests that all these systems will exhibit strong inelasticity whenever inelastic collisions are energetically allowed and that sympathetic cooling will work only when both the atoms and the molecules are already in their lowest internal states. Xe-NH3 is more weakly bound and less anisotropic.
Citation
Zuchowski, P. S., & Hutson, J. M. (2008). Prospects for producing ultracold NH(3) molecules by sympathetic cooling : a survey of interaction potentials. Physical Review A, 78(2), Article 022701. https://doi.org/10.1103/physreva.78.022701
| | |
| --- | --- |
| Journal Article Type | Article |
| Publication Date | Aug 1, 2008 |
| Deposit Date | Jun 19, 2013 |
| Publicly Available Date | Jun 24, 2013 |
| Journal | Physical Review A |
| Print ISSN | 1050-2947 |
| Electronic ISSN | 1094-1622 |
| Publisher | American Physical Society |
| Peer Reviewed | Peer Reviewed |
| Volume | 78 |
| Issue | 2 |
| Article Number | 022701 |
| DOI | https://doi.org/10.1103/physreva.78.022701 |
Files
Published Journal Article (413 Kb)
PDF
Copyright Statement
© 2008 The American Physical Society
You might also like
Downloadable Citations