Recognition and the Character of Seneca's Medea
Bexley, E.M.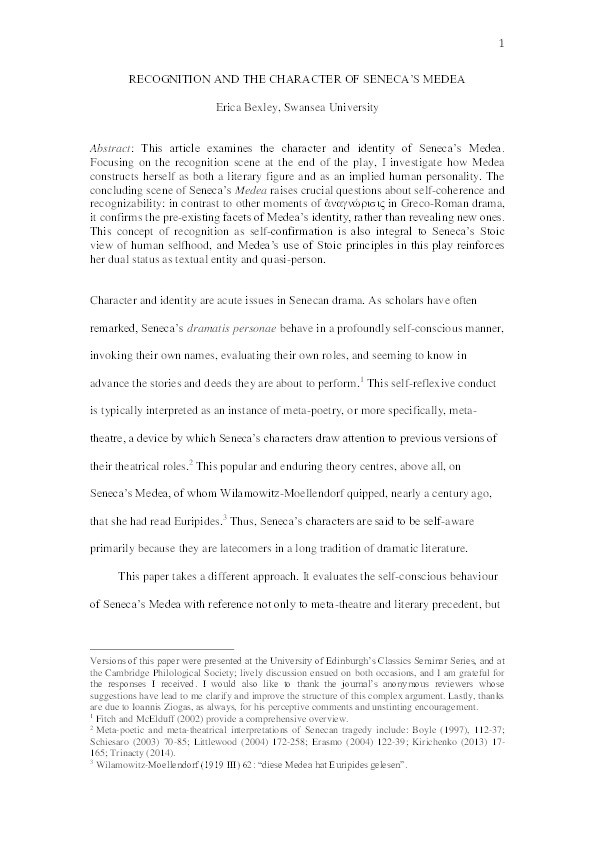 Authors
Abstract
This article examines the character and identity of Seneca's Medea. Focusing on the recognition scene at the end of the play, I investigate how Medea constructs herself both as a literary figure and as an implied human personality. The concluding scene of Seneca's Medea raises crucial questions about self-coherence and recognisability: in contrast to other moments of anagnōrisis in Greco-Roman drama, it confirms the pre-existing facets of Medea's identity, rather than revealing new ones. This concept of recognition as self-confirmation is also integral to Seneca's Stoic view of human selfhood, and Medea's use of Stoic principles in this play reinforces her dual status as textual entity and quasi-person.
Files
Accepted Journal Article (500 Kb)
PDF
Copyright Statement
This article has been published in a revised form in Cambridge Classical Journal https://doi.org/10.1017/s1750270516000051. This version is free to view and download for private research and study only. Not for re-distribution, re-sale or use in derivative works. © The Author(s) 2016. Published by Cambridge University Press.
You might also like
Downloadable Citations