Experiences of loneliness: a study protocol for a systematic review and thematic synthesis of qualitative literature
McKenna-Plumley, Phoebe E.; Groarke, Jenny M.; Turner, Rhiannon N.; Yang, Keming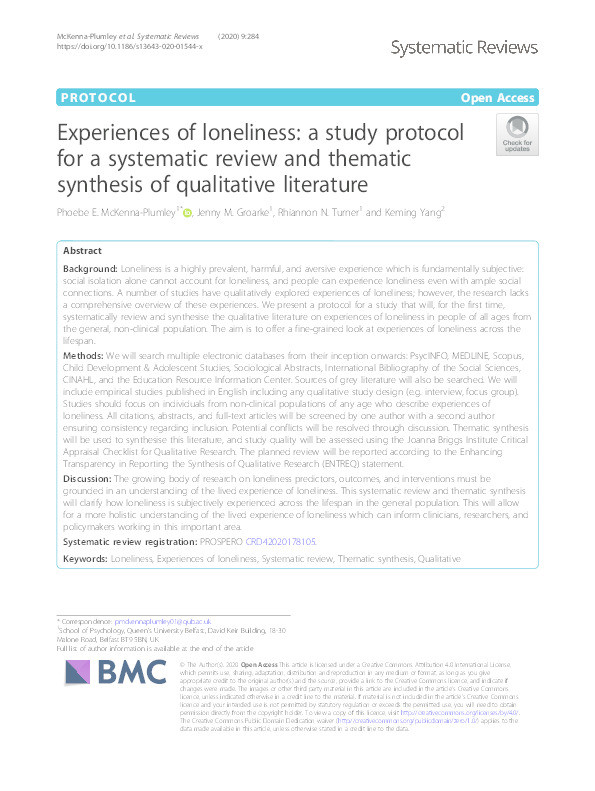 Authors
Phoebe E. McKenna-Plumley
Abstract
Background: Loneliness is a highly prevalent, harmful, and aversive experience which is fundamentally subjective: social isolation alone cannot account for loneliness, and people can experience loneliness even with ample social connections. A number of studies have qualitatively explored experiences of loneliness; however, the research lacks a comprehensive overview of these experiences. We present a protocol for a study that will, for the first time, systematically review and synthesise the qualitative literature on experiences of loneliness in people of all ages from the general, non-clinical population. The aim is to offer a fine-grained look at experiences of loneliness across the lifespan. Methods: We will search multiple electronic databases from their inception onwards: PsycINFO, MEDLINE, Scopus, Child Development & Adolescent Studies, Sociological Abstracts, International Bibliography of the Social Sciences, CINAHL, and the Education Resource Information Center. Sources of grey literature will also be searched. We will include empirical studies published in English including any qualitative study design (e.g. interview, focus group). Studies should focus on individuals from non-clinical populations of any age who describe experiences of loneliness. All citations, abstracts, and full-text articles will be screened by one author with a second author ensuring consistency regarding inclusion. Potential conflicts will be resolved through discussion. Thematic synthesis will be used to synthesise this literature, and study quality will be assessed using the Joanna Briggs Institute Critical Appraisal Checklist for Qualitative Research. The planned review will be reported according to the Enhancing Transparency in Reporting the Synthesis of Qualitative Research (ENTREQ) statement. Discussion: The growing body of research on loneliness predictors, outcomes, and interventions must be grounded in an understanding of the lived experience of loneliness. This systematic review and thematic synthesis will clarify how loneliness is subjectively experienced across the lifespan in the general population. This will allow for a more holistic understanding of the lived experience of loneliness which can inform clinicians, researchers, and policymakers working in this important area.
Citation
McKenna-Plumley, P. E., Groarke, J. M., Turner, R. N., & Yang, K. (2020). Experiences of loneliness: a study protocol for a systematic review and thematic synthesis of qualitative literature. Systematic Reviews, 9(1), Article 284. https://doi.org/10.1186/s13643-020-01544-x
| | |
| --- | --- |
| Journal Article Type | Article |
| Acceptance Date | Nov 25, 2020 |
| Online Publication Date | Dec 6, 2020 |
| Publication Date | 2020 |
| Deposit Date | Dec 7, 2020 |
| Publicly Available Date | Dec 9, 2020 |
| Journal | Systematic Reviews |
| Publisher | BioMed Central |
| Peer Reviewed | Peer Reviewed |
| Volume | 9 |
| Issue | 1 |
| Article Number | 284 |
| DOI | https://doi.org/10.1186/s13643-020-01544-x |
Files
Published Journal Article (561 Kb)
PDF
Publisher Licence URL
http://creativecommons.org/licenses/by/4.0/
Copyright Statement
This article is licensed under a Creative Commons Attribution 4.0 International License, which permits use, sharing, adaptation, distribution and reproduction in any medium or format, as long as you give appropriate credit to the original author(s) and the source, provide a link to the Creative Commons licence, and indicate if changes were made. The images or other third party material in this article are included in the article's Creative Commons licence, unless indicated otherwise in a credit line to the material. If material is not included in the article's Creative Commons licence and your intended use is not permitted by statutory regulation or exceeds the permitted use, you will need to obtain permission directly from the copyright holder. To view a copy of this licence, visit http://creativecommons.org/licenses/by/4.0/. The Creative Commons Public Domain Dedication waiver (http://creativecommons.org/publicdomain/zero/1.0/) applies to the data made available in this article, unless otherwise stated in a credit line to the data.
You might also like
Downloadable Citations