'We Are Burning Ourselves Up': Ethiopian Runners and Energetic Subjectivities
Crawley, Michael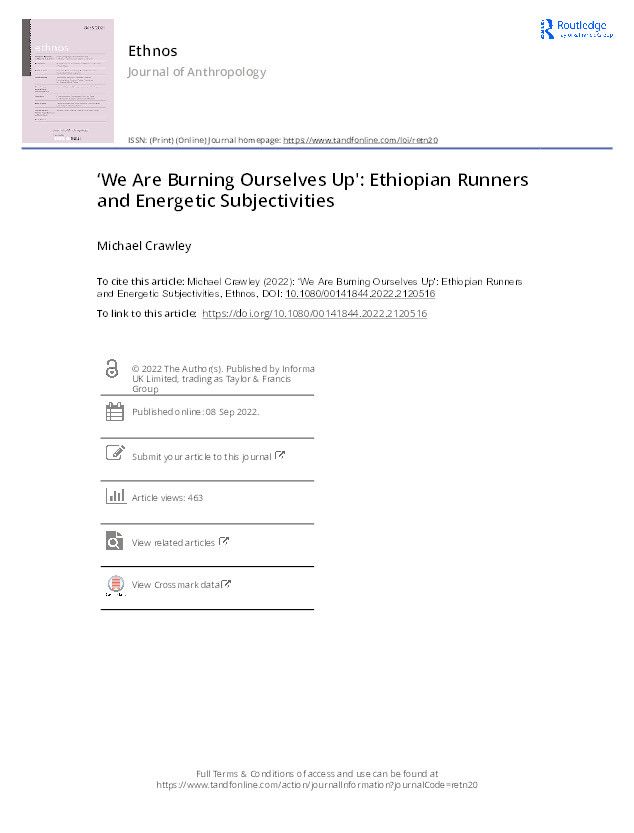 Authors
Abstract
This article describes how energy, and the 'condition' of the runner, achieved through the successful management of energy, is understood as trans-bodily and social by Ethiopian long-distance runners. The way energy flows between people and the environment means it is deeply implicated in how people understand relational ethics. By describing both morally appropriate training sociality as well as instances of rupture, I argue that rather than seeing competitive pressure as driving atomisation, the notion of shared energy deepens athletes' reliance on others. By bringing together literature on energy with debates about ethics I argue that in conditions of scarcity energetic concerns become relational issues in ways that are particularly important to theorise in a moment characterised by the pressures of an economy constrained by ecological and energetic limits. The notion of 'energetic subjectivities' can help us make sense of these challenges from the perspectives of those caught up in them.
| | |
| --- | --- |
| Journal Article Type | Article |
| Online Publication Date | Sep 8, 2022 |
| Deposit Date | Oct 10, 2022 |
| Publicly Available Date | Oct 10, 2022 |
| Journal | Ethnos |
| Print ISSN | 0014-1844 |
| Electronic ISSN | 1469-588X |
| Publisher | Taylor and Francis Group |
| Peer Reviewed | Peer Reviewed |
| DOI | https://doi.org/10.1080/00141844.2022.2120516 |
Files
Published Journal Article (2 Mb)
PDF
Publisher Licence URL
http://creativecommons.org/licenses/by/4.0/
Copyright Statement
© 2022 The Author(s). Published by Informa UK Limited, trading as Taylor & Francis Group<br /> This is an Open Access article distributed under the terms of the Creative Commons Attribution License (http://creativecommons.org/licenses/by/4.0/), which permits unrestricted use, distribution, and reproduction in any medium, provided the original work is properly cited.
You might also like
Downloadable Citations