Gradient Origin Networks
Bond-Taylor, Sam; Willcocks, Chris G.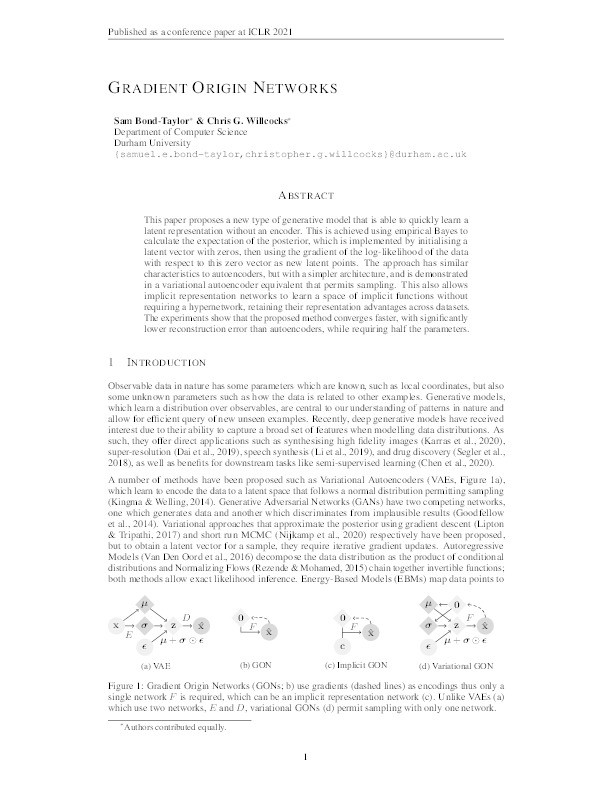 Authors
Abstract
This paper proposes a new type of generative model that is able to quickly learn a latent representation without an encoder. This is achieved using empirical Bayes to calculate the expectation of the posterior, which is implemented by initialising a latent vector with zeros, then using the gradient of the log-likelihood of the data with respect to this zero vector as new latent points. The approach has similar characteristics to autoencoders, but with a simpler architecture, and is demonstrated in a variational autoencoder equivalent that permits sampling. This also allows implicit representation networks to learn a space of implicit functions without requiring a hypernetwork, retaining their representation advantages across datasets. The experiments show that the proposed method converges faster, with significantly lower reconstruction error than autoencoders, while requiring half the parameters.
Citation
Bond-Taylor, S., & Willcocks, C. G. (2021). Gradient Origin Networks.
| | |
| --- | --- |
| Conference Name | International Conference on Learning Representations |
| Conference Location | Vienna / Virtual |
| Start Date | May 3, 2021 |
| End Date | May 7, 2021 |
| Acceptance Date | Jan 12, 2021 |
| Publication Date | 2021 |
| Deposit Date | Nov 27, 2020 |
| Publicly Available Date | Oct 28, 2021 |
| Publisher URL | https://iclr.cc/ |
Files
Published Conference Proceeding (5.1 Mb)
PDF
You might also like
Downloadable Citations