A Topic-Centric Crowdsourced Assisted Biomedical Literature Review Framework for Academics
Hodgson, Ryan; Wang, Jingyun Wang; Cristea, Alexandra; Matsuzaki, Fumiko; Kubota, Hiroyuki; Mitrovic, Antonija; Bosch, Nigel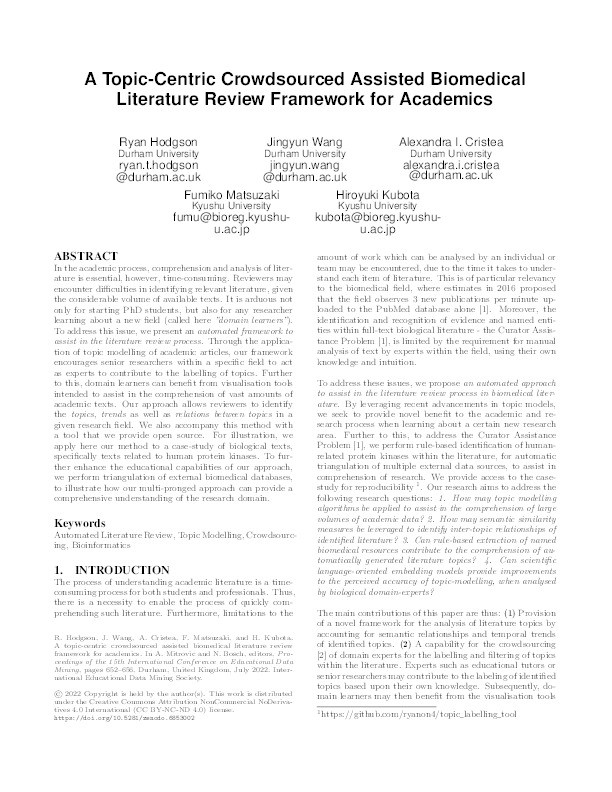 Authors
Abstract
In the academic process, comprehension and analysis of liter- ature is essential, however, time-consuming. Reviewers may encounter difficulties in identifying relevant literature, given the considerable volume of available texts. It is arduous not only for starting PhD students, but also for any researcher learning about a new field (called here "domain learners"). To address this issue, we present an automated framework to assist in the literature review process. Through the applica- tion of topic modelling of academic articles, our framework encourages senior researchers within a specific field to act as experts to contribute to the labelling of topics. Further to this, domain learners can benefit from visualisation tools intended to assist in the comprehension of vast amounts of academic texts. Our approach allows reviewers to identify the topics, trends as well as relations between topics in a given research field. We also accompany this method with a tool that we provide open source. For illustration, we apply here our method to a case-study of biological texts, specifically texts related to human protein kinases. To fur- ther enhance the educational capabilities of our approach, we perform triangulation of external biomedical databases, to illustrate how our multi-pronged approach can provide a comprehensive understanding of the research domain.
Citation
Hodgson, R., Wang, J. W., Cristea, A., Matsuzaki, F., Kubota, H., Mitrovic, A., & Bosch, N. (2022). A Topic-Centric Crowdsourced Assisted Biomedical Literature Review Framework for Academics. . https://doi.org/10.5281/zenodo.6853001
| | |
| --- | --- |
| Conference Name | 15th International Conference on Educational Data Mining |
| Conference Location | Durham, England |
| Start Date | Jul 24, 2022 |
| End Date | Jul 27, 2022 |
| Online Publication Date | Jul 18, 2022 |
| Publication Date | 2022-07 |
| Deposit Date | Aug 8, 2022 |
| Publicly Available Date | Aug 8, 2022 |
| Pages | 652-656 |
| DOI | https://doi.org/10.5281/zenodo.6853001 |
Files
Published Conference Proceeding (530 Kb)
PDF
Publisher Licence URL
http://creativecommons.org/licenses/by-nc-nd/4.0/
Copyright Statement
© 2022 Copyright is held by the author(s). This work is distributed under the Creative Commons Attribution NonCommercial NoDeriva-tives 4.0 International (CC BY-NC-ND 4.0) license.
You might also like
Downloadable Citations