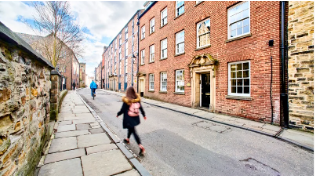 The Department of History at Durham has established itself firmly as one of the top History departments in the UK.

Staff and students are part of a vibrant learning community, set within the magnificent location of Durham's World Heritage Site. Our research and teaching extends from late antiquity and the Middle Ages to contemporary history; from the British Isles and continental Europe (including Russia) to the USA, Africa, South and East Asia; and across social, cultural, gender, visual, scientific, environmental, political, and economic history. In the Times Higher Education (THE) World University Rankings by Subject 2022, Arts & Humanities subjects at Durham were ranked 26th.

Our research engages with a wide range of non-academic audiences and users across the world. Colleagues in the department play advisory roles for a number of governments in both foreign and domestic policy, including the US State Department, the UK Foreign and Commonwealth Office, the UK Parliamentary Petitions service, the Swiss Foreign Office, and a wide range of NGOs and charities. We work in the creative arts sector, with leading global sound and light companies, with schools in the region, in the UK, and internationally, from Germany to India, and with youth movements in South Africa. Our research into medieval food is to be found in a Newcastle restaurant, on heat and cities in East Asia, and on debates on confederate statues in the USA.