Handbook of LHC Higgs Cross Sections: 2. Differential Distributions. CERN-2012-002
Dittmaier, S; Mariotti, C; Passarino, G; Tanaka, R; Alekhin, S; Alwall, J; Bagnaschi, EA; Banfi, A; Blumlein, J; Bolognesi, S; Chanon, N; Cheng, T; Cieri, L; Cooper-Sarkar, AM; Cutajar, M; Dawson, S; Davies, G; De Filippis, N; Degrassi, G; Denner, A; D'Enterria, D; Diglio, S; Di Micco, B; Di Nardo, R; Ellis, RK; Farilla, A; Farrington, S; Felcini, M; Ferrera, G; Flechl, M; de Florian, D; Forte, S; Ganjour, S; Garzelli, MV; Gascon-Shotkin, S; Glazov, S; Goria, S; Grazzini, M; Guillet, J -Ph; Hackstein, C; Hamilton, K; Harlander, R; Hauru, M; Heinemeyer, S; Hoche, S; Huston, J; Jackson, C; Jimenez-Delgado, P; Jorgensen, MD; Kado, M; Kallweit, S; Kardos, A; Kauer, N; Kim, H; Kovac, M; Kramer, M; Krauss, F; Kuo, C -M; Lehti, S; Li, Q; Lorenzo, N; Maltoni, F; Mellado, B; Moch, SO; Muck, A; Muhlleitner, M; Nadolsky, P; Nason, P; Neu, C; Nikitenko, A; Oleari, C; Olsen, J; Palmer, S; Paganis, S; Papadopoulos, CG; Petersen, TC; Petriello, F; Petrucci, F; Piacquadio, G; Pilon, E; Potter, CT; Pri...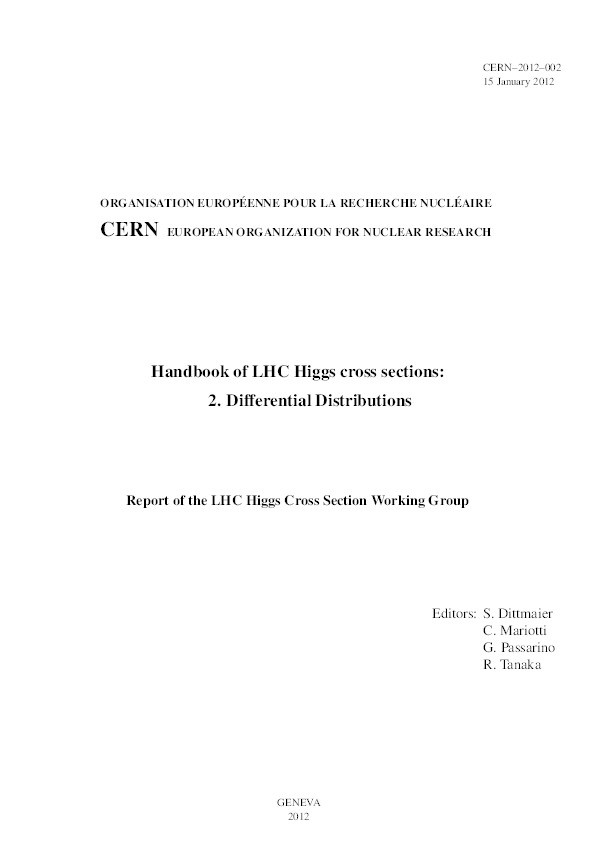 Authors
Abstract
This Report summarises the results of the second year's activities of the LHC Higgs Cross Section Working Group. The main goal of the working group was to present the state of the art of Higgs Physics at the LHC, integrating all new results that have appeared in the last few years. The first working group report Handbook of LHC Higgs Cross Sections: 1. Inclusive Observables (CERN-2011-002) focuses on predictions (central values and errors) for total Higgs production cross sections and Higgs branching ratios in the Standard Model and its minimal supersymmetric extension, covering also related issues such as Monte Carlo generators, parton distribution functions, and pseudo-observables. This second Report represents the next natural step towards realistic predictions upon providing results on cross sections with benchmark cuts, differential distributions, details of specific decay channels, and further recent developments.
Citation
Dittmaier, S., Mariotti, C., Passarino, G., Tanaka, R., Alekhin, S., Alwall, J., …Zanderighi, G. (2012). Handbook of LHC Higgs Cross Sections: 2. Differential Distributions. CERN-2012-002. [No known commissioning body]
Report Type
Project Report
Online Publication Date
Jan 15, 2012
Publication Date
2012-01
Deposit Date
Mar 2, 2016
Publicly Available Date
Dec 21, 2022
Publisher
CERN
Series Title
CERN Yellow Reports: Monographs
Series ISSN
2519-8076
DOI
https://doi.org/10.5170/cern-2012-002
Related Public URLs
http://arxiv.org/abs/arXiv:1201.3084
Additional Information
Publisher: CERN
ISBN: 9789290833710
Type: monograph
Subtype: project_report
Files
Published Report (8.3 Mb)
PDF
Publisher Licence URL
http://creativecommons.org/licenses/by/3.0/
Copyright Statement
CERN publishes this report Open Access under the Creative Commons Attribution 3.0 license<br /> (http://<br /> reative<br /> ommons.org/li<br /> enses/by/3.0/) in order to permit its wide dissemination and<br /> use
You might also like
Downloadable Citations