Regulatory objectivity in action: Mild cognitive impairment and the collective production of uncertainty
Moreira, T.; May, C.; Bond, J.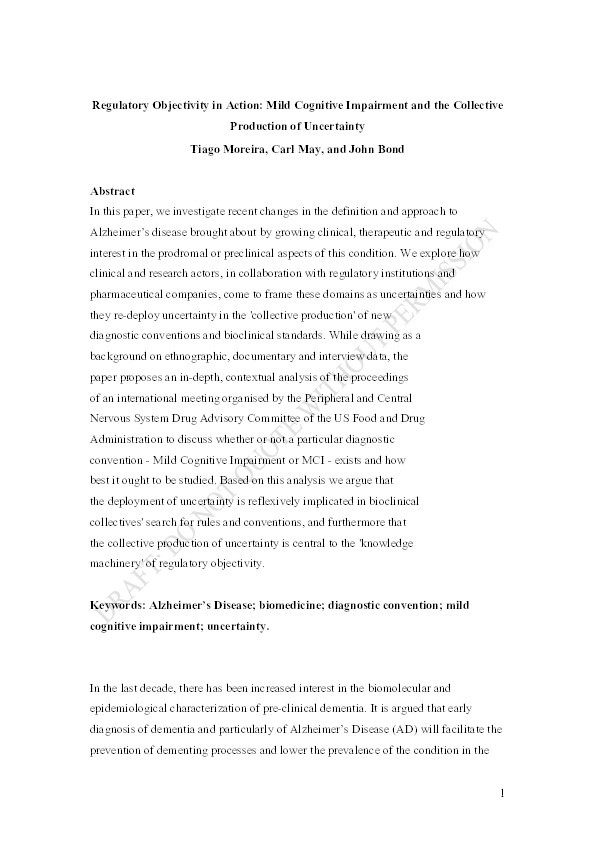 Authors
Abstract
In this paper, we investigate recent changes in the definition and approach to Alzheimer's disease brought about by growing clinical, therapeutic and regulatory interest in the prodromal or preclinical aspects of this condition. In the last decade, there has been an increased interest in the biomolecular and epidemiological characterization of pre-clinical dementia. It is argued that early diagnosis of dementia, and particularly of Alzheimer's disease, will facilitate the prevention of dementing processes and lower the prevalence of the condition in the general population. The search for a diagnostic category or biomarker that would serve this purpose is an ongoing but problematic endeavour for research and clinical communities in this area. In this paper, we explore how clinical and research actors, in collaboration with regulatory institutions and pharmaceutical companies, come to frame these domains as uncertainties and how they re-deploy uncertainty in the 'collective production' of new diagnostic conventions and bioclinical standards. While drawing as background on ethnographic, documentary and interview data, the paper proposes an in-depth, contextual analysis of the proceedings of an international meeting organized by the Peripheral and Central Nervous System Drug Advisory Committee of the US Food and Drug Administration to discuss whether or not a particular diagnostic convention — mild cognitive impairment — exists and how best it ought to be studied. Based on this analysis we argue that the deployment of uncertainty is reflexively implicated in bioclinical collectives' search for rules and conventions, and furthermore that the collective production of uncertainty is central to the 'knowledge machinery' of regulatory objectivity.
Citation
Moreira, T., May, C., & Bond, J. (2009). Regulatory objectivity in action: Mild cognitive impairment and the collective production of uncertainty. Social Studies of Science, 39(5), 665-690. https://doi.org/10.1177/0306312709103481
| | |
| --- | --- |
| Journal Article Type | Article |
| Publication Date | Oct 1, 2009 |
| Deposit Date | Jan 6, 2010 |
| Publicly Available Date | Jan 18, 2010 |
| Journal | Social Studies of Science |
| Print ISSN | 0306-3127 |
| Electronic ISSN | 1460-3659 |
| Publisher | SAGE Publications |
| Peer Reviewed | Peer Reviewed |
| Volume | 39 |
| Issue | 5 |
| Pages | 665-690 |
| DOI | https://doi.org/10.1177/0306312709103481 |
| Keywords | Alzheimer's disease, Biomedicine, Diagnostic convention, Mild cognitive impairment, Uncertainty. |
Files
Accepted Journal Article (934 Kb)
PDF
Copyright Statement
The final definitive version of this article has been published in the Journal Social studies of science 39/5 2009 © SAGE Publications Ltd at the Social studies of science page: http://sss.sagepub.com/ on SAGE Journals Online: http://online.sagepub.com/
You might also like
Downloadable Citations