False Promises: The contours, contexts, and contestation of good water governance in Lao PDR and Alberta, Canada
Matthews, Nate; Schmidt, Jeremy J.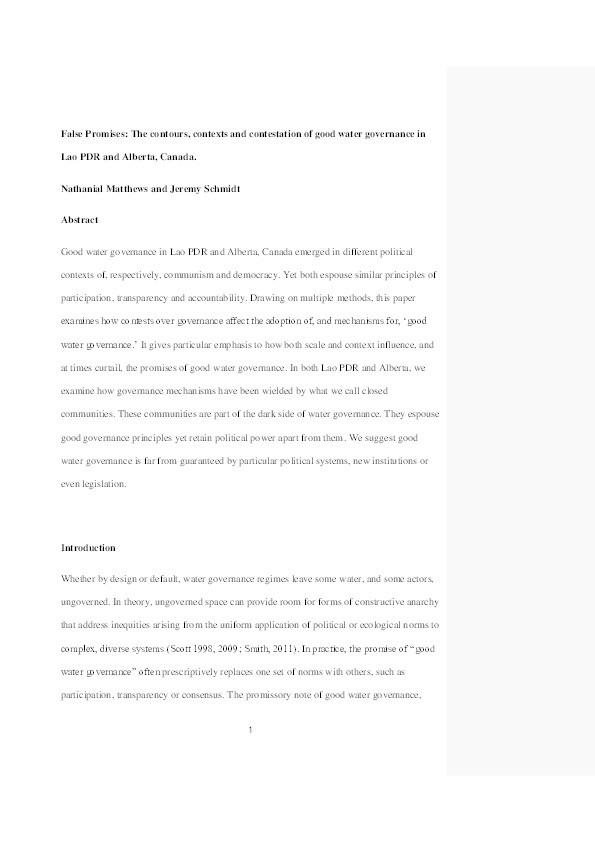 Authors
Abstract
'Good water governance' in Lao PDR and Alberta, Canada emerged in different political contexts of, respectively, communism and democracy. Yet both espouse similar principles of participation, transparency and accountability. Drawing on multiple methods, this paper examines how contests over governance affect the adoption of, and mechanisms for, 'good water governance.' It gives particular emphasis to how both scale and context infuence, and at times curtail, the promises of good water governance. In both Lao PDR and Alberta, we examine how governance mechanisms have been wielded by what we call closed communities. These communities are part of the dark side of water governance. They espouse good governance principles yet retain political power apart from them. We suggest good water governance is far from guaranteed by particular political systems, new institutions or even legislation.
Citation
Matthews, N., & Schmidt, J. J. (2014). False Promises: The contours, contexts, and contestation of good water governance in Lao PDR and Alberta, Canada. Water governance, 2(2), 21-40. https://doi.org/10.7564/14-ijwg61
Files
Accepted Journal Article (353 Kb)
PDF
You might also like
Downloadable Citations