Hybridisation and detection of a hybrid zone between mesic and desert ragworts (Senecio) across an aridity gradient in the eastern Mediterranean
Abbott, Richard J.; Comes, Hans P.; Goodwin, Zoe A.; Brennan, Adrian C.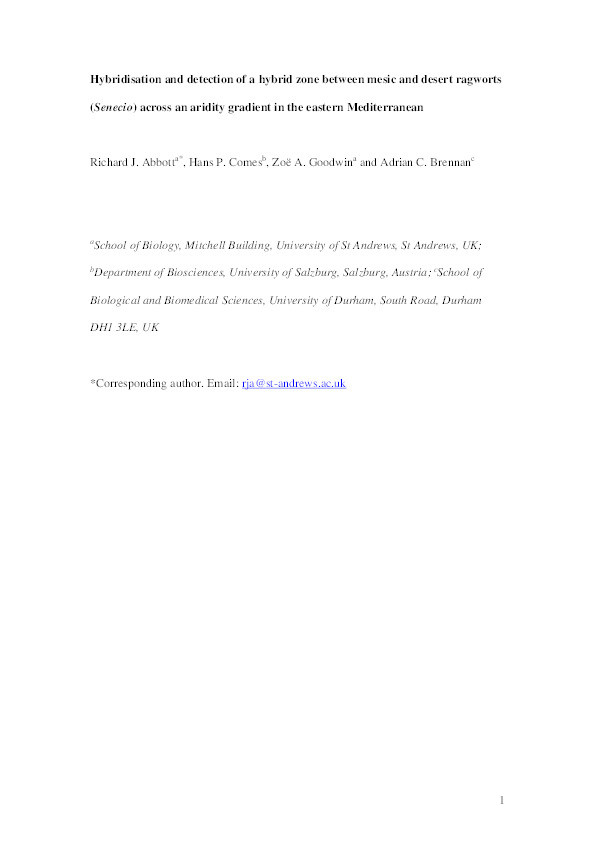 Authors
Abstract
Background: Hybrid zones provide excellent opportunities for studying plant adaptation and speciation. Aims: We tested whether two herbaceous species of Senecio, S. vernalis and S. glaucus, hybridise in the eastern Mediterranean region and form a hybrid zone across an aridity gradient in the Jordan Rift Valley. Methods: Allozyme variation surveyed across both species was analysed by the programme STRUCTURE to assign individuals to genetic groups and determine levels of admixture. Populations in the Jordan Rift Valley were subsequently subjected to a cline analysis. Results: STRUCTURE showed that interspecific hybrids were produced at low frequency along the Israeli coastal plain where S. glaucus is represented by ssp. glaucus. In contrast, hybrids were more commonly produced in central populations of the Jordan Rift Valley. Here, the two species form a hybrid zone with S. vernalis occurring in mesic sites to the north and S. glaucus (ssp. coronopifolius) in arid sites to the south. Cline analysis showed that the hybrid zone is centred towards the northern end of the Dead Sea, but the analysis failed to distinguish how it is maintained. Conclusions: Future detailed genetic and ecological analysis of the Senecio hybrid zone should improve our understanding of plant adaptation and speciation across aridity gradients.
Citation
Abbott, R. J., Comes, H. P., Goodwin, Z. A., & Brennan, A. C. (2018). Hybridisation and detection of a hybrid zone between mesic and desert ragworts (Senecio) across an aridity gradient in the eastern Mediterranean. Plant Ecology and Diversity, 11(3), 267-281. https://doi.org/10.1080/17550874.2018.1496366
| | |
| --- | --- |
| Journal Article Type | Article |
| Acceptance Date | Jun 30, 2018 |
| Online Publication Date | Jul 19, 2018 |
| Publication Date | Jul 19, 2018 |
| Deposit Date | Sep 17, 2018 |
| Publicly Available Date | Jul 19, 2019 |
| Journal | Plant Ecology and Diversity |
| Print ISSN | 1755-0874 |
| Electronic ISSN | 1755-1668 |
| Publisher | Taylor and Francis Group |
| Peer Reviewed | Peer Reviewed |
| Volume | 11 |
| Issue | 3 |
| Pages | 267-281 |
| DOI | https://doi.org/10.1080/17550874.2018.1496366 |
Files
Accepted Journal Article (406 Kb)
PDF
Copyright Statement
This is an Accepted Manuscript of an article published by Taylor & Francis in Plant ecology & diversity on 19 July 2018 available online: http://www.tandfonline.com/10.1080/17550874.2018.1496366
You might also like
Downloadable Citations