A critical social perspective on deep sea mining: Lessons from the emergent industry in Japan
Carver, R.; Childs, J.; Steinberg, P.; Mabon, L.; Matsuda, H.; Squire, R.; McLellan, B.; Esteban, M.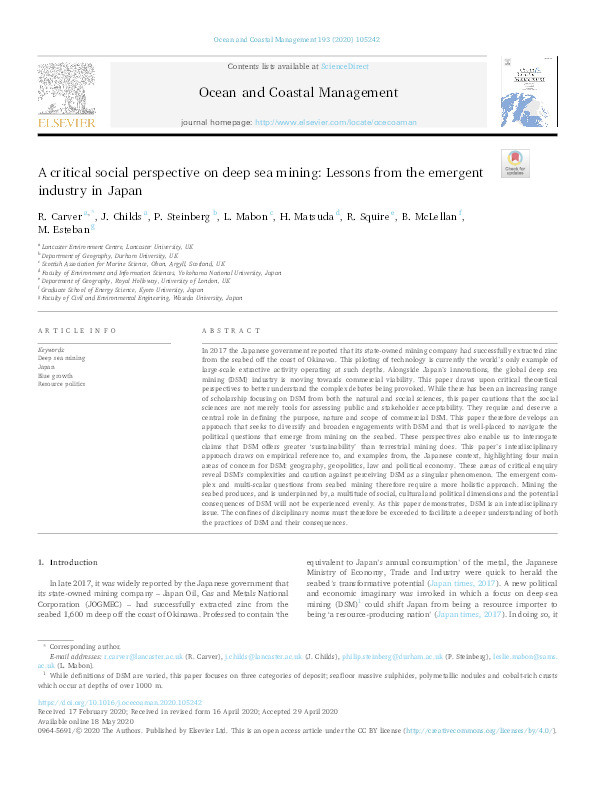 Authors
Abstract
In 2017 the Japanese government reported that its state-owned mining company had successfully extracted zinc from the seabed off the coast of Okinawa. This piloting of technology is currently the world's only example of large-scale extractive activity operating at such depths. Alongside Japan's innovations, the global deep sea mining (DSM) industry is moving towards commercial viability. This paper draws upon critical theoretical perspectives to better understand the complex debates being provoked. While there has been an increasing range of scholarship focusing on DSM from both the natural and social sciences, this paper cautions that the social sciences are not merely tools for assessing public and stakeholder acceptability. They require and deserve a central role in defining the purpose, nature and scope of commercial DSM. This paper therefore develops an approach that seeks to diversify and broaden engagements with DSM and that is well-placed to navigate the political questions that emerge from mining on the seabed. These perspectives also enable us to interrogate claims that DSM offers greater 'sustainability' than terrestrial mining does. This paper's interdisciplinary approach draws on empirical reference to, and examples from, the Japanese context, highlighting four main areas of concern for DSM: geography, geopolitics, law and political economy. These areas of critical enquiry reveal DSM's complexities and caution against perceiving DSM as a singular phenomenon. The emergent complex and multi-scalar questions from seabed mining therefore require a more holistic approach. Mining the seabed produces, and is underpinned by, a multitude of social, cultural and political dimensions and the potential consequences of DSM will not be experienced evenly. As this paper demonstrates, DSM is an interdisciplinary issue. The confines of disciplinary norms must therefore be exceeded to facilitate a deeper understanding of both the practices of DSM and their consequences.
Citation
Carver, R., Childs, J., Steinberg, P., Mabon, L., Matsuda, H., Squire, R., …Esteban, M. (2020). A critical social perspective on deep sea mining: Lessons from the emergent industry in Japan. Ocean & Coastal Management, 193, https://doi.org/10.1016/j.ocecoaman.2020.105242
| | |
| --- | --- |
| Journal Article Type | Article |
| Acceptance Date | Apr 29, 2020 |
| Online Publication Date | May 18, 2020 |
| Publication Date | Aug 1, 2020 |
| Deposit Date | May 21, 2020 |
| Publicly Available Date | May 22, 2020 |
| Journal | Ocean & Coastal Management |
| Print ISSN | 0964-5691 |
| Publisher | Elsevier |
| Peer Reviewed | Peer Reviewed |
| Volume | 193 |
| DOI | https://doi.org/10.1016/j.ocecoaman.2020.105242 |
Files
Published Journal Article (948 Kb)
PDF
Publisher Licence URL
http://creativecommons.org/licenses/by/4.0/
Copyright Statement
© 2020 The Authors. Published by Elsevier Ltd. This is an open access article under the CC BY license (http://creativecommons.org/licenses/by/4.0/)
You might also like
Downloadable Citations