Dominant effect of gap junction communication in wound‐induced calcium‐wave, NFAT activation and wound closure in keratinocytes
Hudson, Laura; Begg, Malcolm; Wright, Blythe; Cheek, Tim; Jahoda, Colin A.B.; Reynolds, Nick J.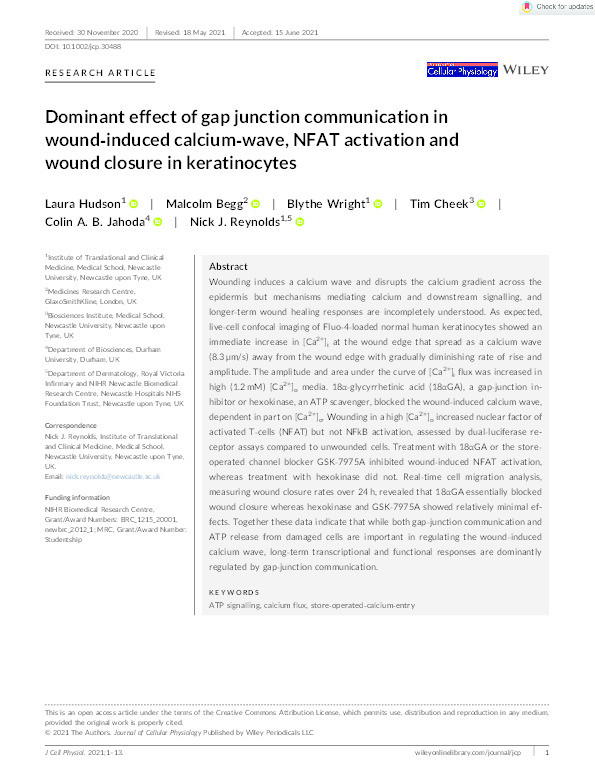 Authors
Abstract
Wounding induces a calcium wave and disrupts the calcium gradient across the epidermis but mechanisms mediating calcium and downstream signalling, and longer-term wound healing responses are incompletely understood. As expected, live-cell confocal imaging of Fluo-4-loaded normal human keratinocytes showed an immediate increase in [Ca2+]i at the wound edge that spread as a calcium wave (8.3 µm/s) away from the wound edge with gradually diminishing rate of rise and amplitude. The amplitude and area under the curve of [Ca2+]i flux was increased in high (1.2 mM) [Ca2+]o media. 18α-glycyrrhetinic acid (18αGA), a gap-junction inhibitor or hexokinase, an ATP scavenger, blocked the wound-induced calcium wave, dependent in part on [Ca2+]o. Wounding in a high [Ca2+]o increased nuclear factor of activated T-cells (NFAT) but not NFkB activation, assessed by dual-luciferase receptor assays compared to unwounded cells. Treatment with 18αGA or the store-operated channel blocker GSK-7975A inhibited wound-induced NFAT activation, whereas treatment with hexokinase did not. Real-time cell migration analysis, measuring wound closure rates over 24 h, revealed that 18αGA essentially blocked wound closure whereas hexokinase and GSK-7975A showed relatively minimal effects. Together these data indicate that while both gap-junction communication and ATP release from damaged cells are important in regulating the wound-induced calcium wave, long-term transcriptional and functional responses are dominantly regulated by gap-junction communication.
Citation
Hudson, L., Begg, M., Wright, B., Cheek, T., Jahoda, C. A., & Reynolds, N. J. (2021). Dominant effect of gap junction communication in wound‐induced calcium‐wave, NFAT activation and wound closure in keratinocytes. Journal of Cellular Physiology, 236(12), 8171-8183. https://doi.org/10.1002/jcp.30488
| | |
| --- | --- |
| Journal Article Type | Article |
| Acceptance Date | Jun 15, 2021 |
| Online Publication Date | Jun 27, 2021 |
| Publication Date | 2021-12 |
| Deposit Date | Jul 13, 2021 |
| Publicly Available Date | Jul 14, 2021 |
| Journal | Journal of Cellular Physiology |
| Print ISSN | 0021-9541 |
| Electronic ISSN | 1097-4652 |
| Publisher | Wiley |
| Peer Reviewed | Peer Reviewed |
| Volume | 236 |
| Issue | 12 |
| Pages | 8171-8183 |
| DOI | https://doi.org/10.1002/jcp.30488 |
Files
Published Journal Article (Early View) (3.6 Mb)
PDF
Publisher Licence URL
http://creativecommons.org/licenses/by/4.0/
Copyright Statement
Early View This is an open access article under the terms of the Creative Commons Attribution License, which permits use, distribution and reproduction in any medium,<br /> provided the original work is properly cited.<br /> &copy; 2021 The Authors. Journal of Cellular Physiology Published by Wiley Periodicals LLC
You might also like
Downloadable Citations