Molecular Identification of Trypanosome Diversity in Domestic Animals Reveals the Presence of Trypanosoma brucei gambiense in Historical Foci of Human African Trypanosomiasis in Gabon
Boundenga, Larson; Mombo, Illich Manfred; Augustin, Mouinga-Ondeme; Barthélémy, Ngoubangoye; Nzassi, Patrice Makouloutou; Moukodoum, Nancy D.; Rougeron, Virginie; Prugnolle, Franck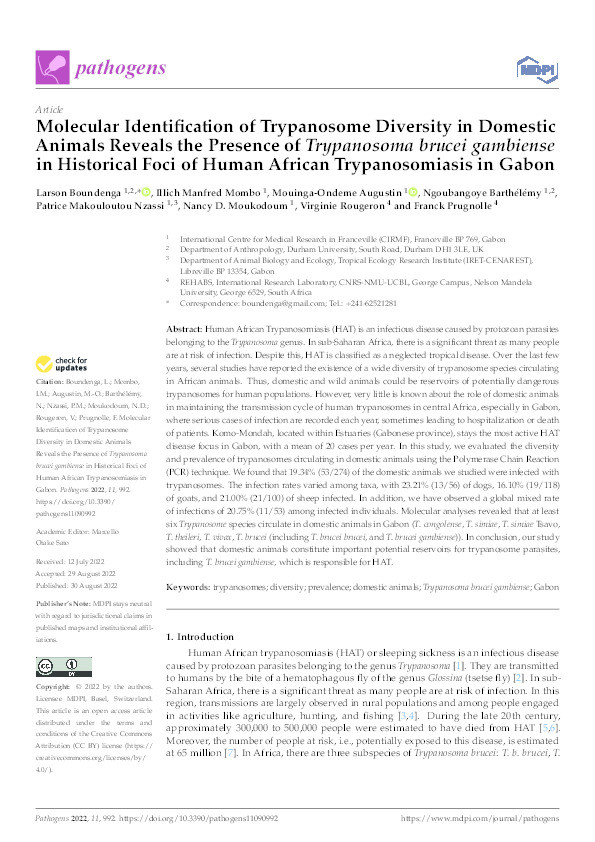 Authors
Patrice Makouloutou Nzassi
Abstract
Human African Trypanosomiasis (HAT) is an infectious disease caused by protozoan parasites belonging to the Trypanosoma genus. In sub-Saharan Africa, there is a significant threat as many people are at risk of infection. Despite this, HAT is classified as a neglected tropical disease. Over the last few years, several studies have reported the existence of a wide diversity of trypanosome species circulating in African animals. Thus, domestic and wild animals could be reservoirs of potentially dangerous trypanosomes for human populations. However, very little is known about the role of domestic animals in maintaining the transmission cycle of human trypanosomes in central Africa, especially in Gabon, where serious cases of infection are recorded each year, sometimes leading to hospitalization or death of patients. Komo-Mondah, located within Estuaries (Gabonese province), stays the most active HAT disease focus in Gabon, with a mean of 20 cases per year. In this study, we evaluated the diversity and prevalence of trypanosomes circulating in domestic animals using the Polymerase Chain Reaction (PCR) technique. We found that 19.34% (53/274) of the domestic animals we studied were infected with trypanosomes. The infection rates varied among taxa, with 23.21% (13/56) of dogs, 16.10% (19/118) of goats, and 21.00% (21/100) of sheep infected. In addition, we have observed a global mixed rate of infections of 20.75% (11/53) among infected individuals. Molecular analyses revealed that at least six Trypanosome species circulate in domestic animals in Gabon (T. congolense, T. simiae, T. simiae Tsavo, T. theileri, T. vivax, T. brucei (including T. brucei brucei, and T. brucei gambiense)). In conclusion, our study showed that domestic animals constitute important potential reservoirs for trypanosome parasites, including T. brucei gambiense, which is responsible for HAT.
Citation
Boundenga, L., Mombo, I. M., Augustin, M., Barthélémy, N., Nzassi, P. M., Moukodoum, N. D., …Prugnolle, F. (2022). Molecular Identification of Trypanosome Diversity in Domestic Animals Reveals the Presence of Trypanosoma brucei gambiense in Historical Foci of Human African Trypanosomiasis in Gabon. Pathogens, 11(9), https://doi.org/10.3390/pathogens11090992
| | |
| --- | --- |
| Journal Article Type | Article |
| Acceptance Date | Aug 29, 2022 |
| Online Publication Date | Aug 30, 2022 |
| Publication Date | 2022 |
| Deposit Date | Dec 12, 2022 |
| Publicly Available Date | Dec 12, 2022 |
| Journal | Pathogens |
| Publisher | MDPI |
| Peer Reviewed | Peer Reviewed |
| Volume | 11 |
| Issue | 9 |
| DOI | https://doi.org/10.3390/pathogens11090992 |
Files
Published Journal Article (1.4 Mb)
PDF
Publisher Licence URL
http://creativecommons.org/licenses/by/4.0/
Copyright Statement
This article is an open access article<br /> distributed under the terms and conditions of the Creative Commons Attribution (CC BY) license (https://creativecommons.org/licenses/by/<br /> 4.0/).
You might also like
Downloadable Citations