The social learning and development of intra-and inter-ethnic sharing norms in the Congo Basin: A registered report protocol
Pope-Caldwell, Sarah; Lew-Levy, Sheina; Maurits, Luke; Boyette, Adam H.; Ellis-Davies, Kate; Haun, Daniel; Over, Harriet; House, Bailey R.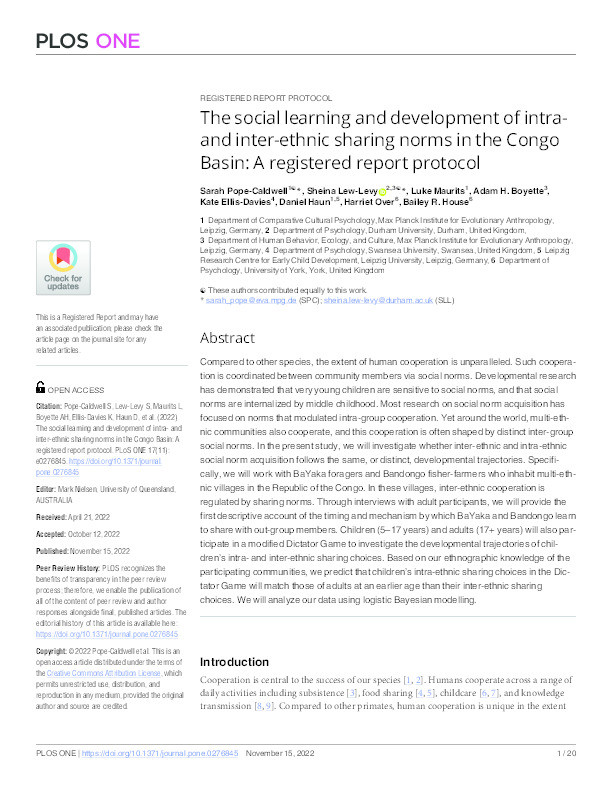 Authors
Abstract
Compared to other species, the extent of human cooperation is unparalleled. Such cooperation is coordinated between community members via social norms. Developmental research has demonstrated that very young children are sensitive to social norms, and that social norms are internalized by middle childhood. Most research on social norm acquisition has focused on norms that modulated intra-group cooperation. Yet around the world, multi-ethnic communities also cooperate, and this cooperation is often shaped by distinct inter-group social norms. In the present study, we will investigate whether inter-ethnic and intra-ethnic social norm acquisition follows the same, or distinct, developmental trajectories. Specifically, we will work with BaYaka foragers and Bandongo fisher-farmers who inhabit multi-ethnic villages in the Republic of the Congo. In these villages, inter-ethnic cooperation is regulated by sharing norms. Through interviews with adult participants, we will provide the first descriptive account of the timing and mechanism by which BaYaka and Bandongo learn to share with out-group members. Children (5–17 years) and adults (17+ years) will also participate in a modified Dictator Game to investigate the developmental trajectories of children's intra- and inter-ethnic sharing choices. Based on our ethnographic knowledge of the participating communities, we predict that children's intra-ethnic sharing choices in the Dictator Game will match those of adults at an earlier age than their inter-ethnic sharing choices. We will analyze our data using logistic Bayesian modelling.
Citation
Pope-Caldwell, S., Lew-Levy, S., Maurits, L., Boyette, A. H., Boyette, A. H., Ellis-Davies, K., …House, B. R. (2022). The social learning and development of intra-and inter-ethnic sharing norms in the Congo Basin: A registered report protocol. PLoS ONE, 17(11), e0276845. https://doi.org/10.1371/journal.pone.0276845
Files
Published Journal Article (2.3 Mb)
PDF
Publisher Licence URL
http://creativecommons.org/licenses/by/4.0/
Copyright Statement
This is an open access article distributed under the terms of the Creative Commons Attribution License, which permits unrestricted use, distribution, and reproduction in any medium, provided the original author and source are credited.
You might also like
Downloadable Citations