Designing Interactive Displays to Promote Effective use of Evidence
Sutherland, S.; Hedger, S.; Ireland, M.; Ridgway, J.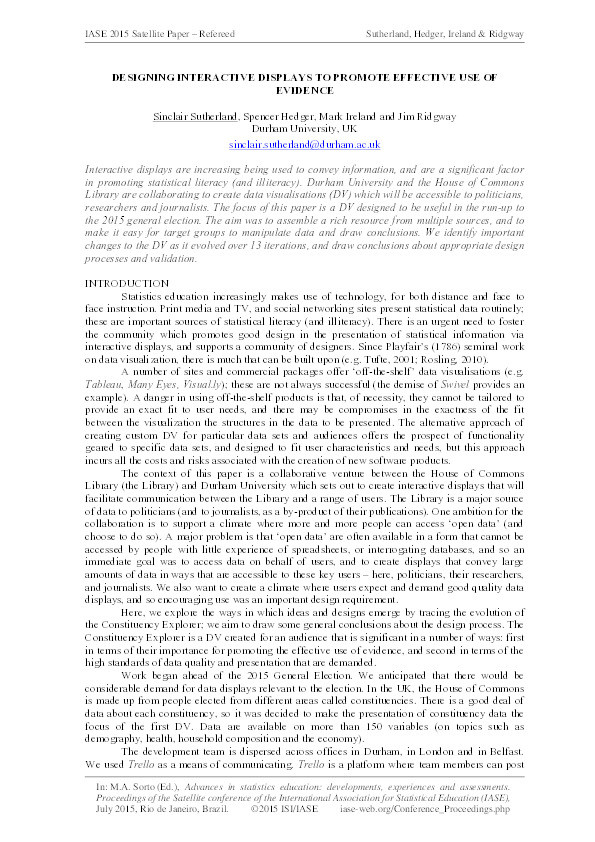 Authors
Contributors
Abstract
Interactive displays are increasing being used to convey information, and are a significant factor in promoting statistical literacy (and illiteracy). Durham University and the House of Commons Library are collaborating to create data visualisations (DV) which will be accessible to politicians, researchers and journalists. The focus of this paper is a DV designed to be useful in the run-up to the 2015 general election. The aim was to assemble a rich resource from multiple sources, and to make it easy for target groups to manipulate data and draw conclusions. We identify important changes to the DV as it evolved over 13 iterations, and draw conclusions about appropriate design processes and validation.
Citation
Sutherland, S., Hedger, S., Ireland, M., & Ridgway, J. (2015). Designing Interactive Displays to Promote Effective use of Evidence. In M. Sorto (Ed.), Advances in statistics education : developments, experiences and assessments. Proceedings of the Satellite conference of the International Association for Statistical Education (IASE), July 2015, Rio de Janeiro, Brazil
| | |
| --- | --- |
| Conference Name | IASE Satellite Conference |
| Conference Location | Rio de Janeiro, Brazil |
| Start Date | Jul 26, 2015 |
| End Date | Jul 31, 2015 |
| Acceptance Date | Apr 30, 2015 |
| Publication Date | Jul 31, 2015 |
| Deposit Date | Sep 10, 2015 |
| Publicly Available Date | Sep 24, 2015 |
| Book Title | Advances in statistics education : developments, experiences and assessments. Proceedings of the Satellite conference of the International Association for Statistical Education (IASE), July 2015, Rio de Janeiro, Brazil. |
| Public URL | https://durham-repository.worktribe.com/output/1152633 |
| Publisher URL | http://iase-web.org/Conference_Proceedings.php?p=Advances_in_Stats_Education_2015 |
| Additional Information | In M.A. Sorto (Ed.), Advances in statistics education: developments, experiences and assessments. Proceedings of the Satellite conference of the International Association for Statistical Education (IASE), July 2015, Rio de Janeiro, Brazil. |
Files
Published Conference Proceeding (674 Kb)
PDF
You might also like
Downloadable Citations