Towards detection of influential sentences affecting reputation in Wikipedia
Zhou, Yiwei; Cristea, A.I.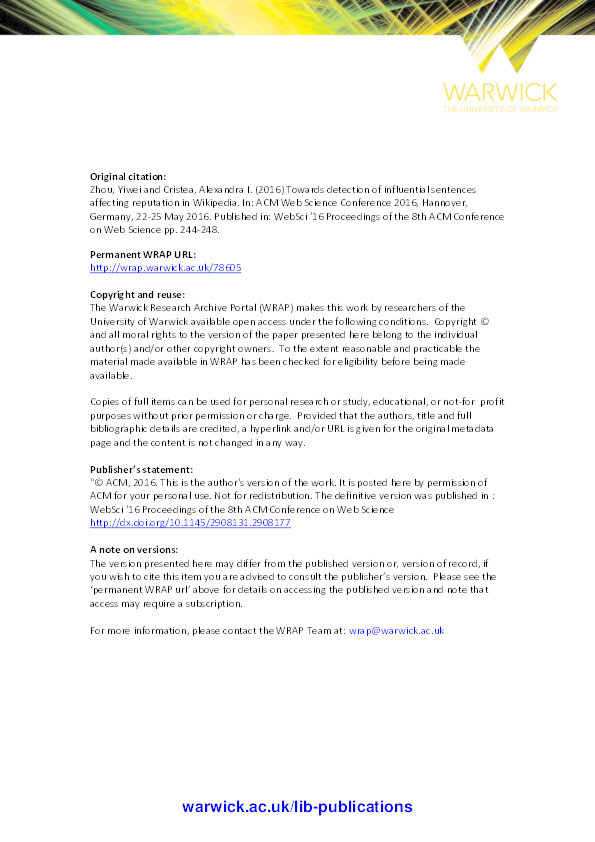 Authors
Contributors
Abstract
Wikipedia has become the most frequently viewed online encyclopaedia website. Some sentences in Wikipedia articles have direct and obvious impact on people's opinions towards the mentioned named entities. This paper defines and tackles the problem of reputation-influential sentence detection in Wikipedia articles from various domains. We leverage multiple lexicons, to generate domain independent features. We generate topical features and word embedding features from unlabelled dataset, to boost the classification performance. We conduct several experiments, to prove the effectiveness of these features. We further adapt a two-step binary classification method, to perform multi-classification. Our evaluation results show that this method outperforms the state-of-the-art one-vs-one multi-classification method for this problem.
Citation
Zhou, Y., & Cristea, A. (2016). Towards detection of influential sentences affecting reputation in Wikipedia. In W. Nejdl (Ed.), WebSci '16 : Proceedings of the 8th ACM Conference on Web Science (244-248). https://doi.org/10.1145/2908131.2908177
Files
Accepted Conference Proceeding (443 Kb)
PDF
Copyright Statement
© 2016 Copyright held by the owner/author(s). This is the author's version of the work. It is posted here for your personal use. Not for redistribution. The definitive Version of Record was published in WebSci '16 : Proceedings of the 8th ACM Conference on Web Science, http://dx.doi.org/10.1145/2908131.2908177
You might also like
Downloadable Citations